Using coastal and inland waterways to move cargo over short distances can cut greenhouse gas (GHG) emissions and could also ease congestion on roads and railways.
When you think of marine shipping, you might picture a giant cargo ship in the ocean or at port after a long voyage from far away. However, marine shipping also plays a key role over shorter distances for domestic transport of goods through what is referred to as 'short-sea shipping.' Although exact definitions vary by country, short-sea shipping is usually understood as the movement of cargo by sea, lake, or river without crossing an ocean.1
Short-sea shipping exists as an important part of intermodal networks worldwide. For example, Europe's many rivers make it particularly well-suited to a short-sea network that supports 60% of intra-European trade.2
Goods transported by ship along inland waterways or between coastal ports are then unloaded and finish their journey by land transport, whether it be rail or truck. When convenient waterways are available, transporting cargo by water as far as possible increases carrying capacity, reduces need for personnel, and can reduce GHG emissions.
'Marine Highways' – Short-sea shipping in Canada and the United States
Interest in short-sea shipping in North America has increased in the past twenty years due to its potential for lower GHG emissions. These routes are sometimes referred to as 'marine highways' to provide an analogy for the U.S. Interstate highway system. However, opportunities for further implementation are limited by the geography of North America, with much of the continent landlocked and inaccessible by water.
Despite these limitations, thriving marine transport networks exist and continue to develop, including the binational St. Lawrence–Great Lakes Seaway and the Mississippi River in the United States. In 2024 a new river container facility network is projected to open, which will further increase the Mississippi's capacity for trade.3 The Port of Windsor, strategically located on the Detroit River between Lakes Erie and St. Clair and the gateway to Lake Huron, just announced a multi-modal cargo terminal expansion projected to be finished in 2026.4
Short-sea shipping also exists to a lesser extent between ports on the Atlantic and Pacific Coasts and in the Arctic. Within Canada, on the east coast, there is a service linking Montreal, QC to Halifax, NS and St. John's, NL called Oceanex, as well as routes from Halifax, NS to Portland, ME, and Boston, MA. On the Pacific coast, there are regional tug and barge routes in the Lower Mainland around Metro Vancouver, to Vancouver Island, and routes from Vancouver to Seattle and to Prince Rupert.5
In the Arctic, short-sea shipping routes are used to transport bulk materials and dry cargo for communities, defence installations, and oil and gas exploration sites.6 The largest marine operator in the western Arctic is the Government of the Northwest Territories' Marine Transportation Services, which operates a fleet of tugs and barges in the Mackenzie River Watershed and the Arctic coast and islands. The eastern Arctic sealift of dry cargo and bulk fuel brought from the south to northern communities is coordinated by the government of Nunavut and carried out by many different commercial shipping companies.
What are the advantages of short-sea shipping?
Short-sea shipping has several environmental and economic advantages compared to cargo transported by road and to a lesser extent by rail.
Ships are the most fuel-efficient way to move goods, producing the least amount of carbon emissions and air contaminants. An environmental benefits study commissioned by the Chamber of Marine Commerce (CMC) and carried out by the Research and Traffic Group demonstrated that an average vessel operating in the St. Lawrence-Great Lakes Seaway can carry one tonne of cargo 394 kilometres on one litre of fuel compared to 226 kilometres by train or 49 kilometres by truck.
Their analysis shows that if the same cargo were to be carried by rail or truck over the same distance, there would be 31% more GHG emissions from rail and 558% more from trucking.7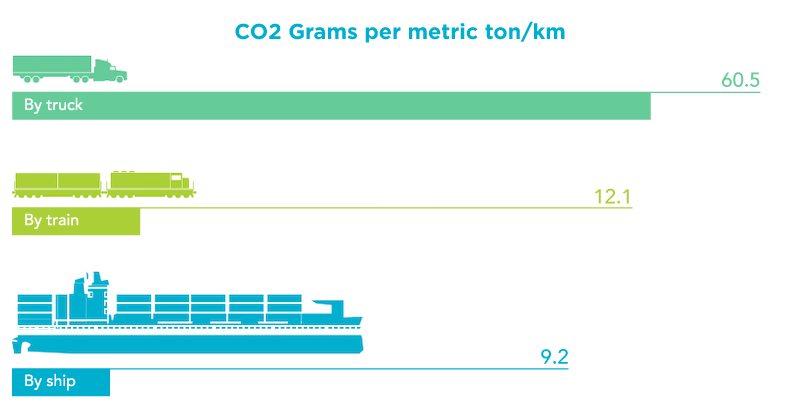 Marine vessels' greater carrying capacity than trucks or railcars can also provide greater economic efficiency. Fewer people are needed to transport the cargo, and there is also less risk of cargo loss by theft or damage when most of the transport is conducted by sea with fewer human touchpoints along the trip.8
The use of short-sea shipping can also ease highway congestion and maintenance costs due to fewer trucks on the road. If the same amount of cargo carried by the Great Lakes-Seaway fleet was transported instead by truck, it would increase highway maintenance costs by $4.6 billion over 60 years.7 Other benefits include lower noise levels for surrounding neighbourhoods, less potential for road accidents, and lower levels of ambient air pollution (e.g., nitrogen and sulphur oxides and particulate matter).1
A 2020 Transport Canada study used multi-variate modelling to evaluate the environmental and social impacts of short-sea shipping in Canada, comparing the outcomes with rail and road.9 The study compared rail, road, and marine transport in four modelled scenarios: the Great Lakes, the St. Lawrence Seaway, the East Coast, and the West Coast. Results showed that the environmental and social costs were significantly less for marine transport than for other forms of transport in three out of the four scenarios. The exception was the St. Lawrence Seaway, in which marine transport was still much less costly than road transport, but rail and marine transport were comparable, most likely because the distance to cover by marine transport in the Seaway is about 50% higher than the distance to cover by the other two modes.9
A study released in May 2023, conducted through a partnership between Hamilton-Oshawa Ontario Ports Authority and the McMaster Institute for Transportation and Logistics, with support from Transport Canada, identified clear benefits. "Currently, over 12,000 trucks per week make cross-border trips between southern Ontario and U.S. Great Lakes port areas, carrying non-perishable commodities that are ideal candidates for a marine service to handle the long-haul 'middle mile,'" says a summary of the study.10
"Short sea shipping is an idea whose time has come. This study gives us the real data we need to identify the most promising commodities and routes, where marine transportation can help address our mounting goods movement challenges," said HOPA's president and chief executive officer Ian Hamilton. Population growth and highway congestion, driver shortages and fuel costs are all part of the perfect storm-hitting North American supply chains, he said. "Short sea shipping helps tackle all these problems."
What are the challenges facing short-sea shipping?
While short-sea shipping offers many advantages, it also comes with some challenges, particularly in developing new or expanding existing short-sea shipping networks. Viable short-sea shipping must be cost competitive, efficient, and include reasonable transit times.
Adding more short-sea shipping includes substantial upfront costs, including major infrastructure upgrades. For example, the current expansion underway for the Mississippi River is a multi-year project that includes the development of container terminal facilities in multiple cities and further terminal and rail expansions.3 While this investment in infrastructure is valuable with long-term benefits, it can be an obstacle to potential investors and government partners, particularly when much of existing marine infrastructure is also in need of updating.11 In comparison, transportation by truck can seem cheaper, though indirect costs of truck wear on roads and bridges as well as associated fuel costs and effects of air pollution may actually be similarly costly over time.
Short-sea shipping operations in North America are further hampered by the already robust network of ground transport, which is often faster. The available networks of rail for long distances and trucking for short distances mostly leaves short-sea shipping as a niche market with limited growth potential. Container handling charges at ports keep some connections from being competitive with truck services, such as barge service between the California Ports of Oakland and Stockton, which was inaugurated in 2013 but discontinued only a year later.12 Within Canada, short-sea shipping potential is also limited by seasonal factors on the Great-Lakes Seaway and in the Arctic, where ice limits the number of months that vessels can operate.
What is the Jones Act?
Regulatory restrictions on trade also keep many potential North American routes for short-sea shipping from being economically viable. For instance, the U.S. Merchant Marine Act of 1920, better known as 'the Jones Act', states that any cargo moving between domestic ports must be carried by a vessel that is U.S. built, crewed, and flagged. Similarly, Canada's Coasting Trade Act reserves the coasting trade (or cabotage) of Canada for Canadian-registered vessels, with limited exceptions. These laws prevent binational routing for short-sea shipping to multiple ports and make domestic short-sea shipping more expensive because crews on Canadian-operated vessels are paid more than crews on international vessels. There is some question whether these protectionist measures still serve Canada's best economic (and human health) interests or whether more flexibility on which vessels are allowed to operate between Canadian ports would make domestic-short shipping more viable.13
Despite these challenges, short-sea shipping remains an important part of the North American intermodal trade system, and discussions on how this energy-efficient form of transport can further contribute to the transportation of goods will continue in the future.
References
1 Short Sea Shipping. (2023). CSL Group
2 European ShortSea Network. (2023). European ShortSea Network.
3 Marsh, J. Inland port network coming to Mississippi river. (2022). Freight Waves.
4 Massive multi-modal hub in the works for Port of Windsor. (2023). Daily Commercial News.
5 Short Sea Shipping in Metro Vancouver. (2015). Metro Vancouver.
6 Transport Canada. Northern Community Re-supply. (2010). Government of Canada.
7 Research and Traffic Group. (2013). Environmental and Social Impacts of Marine Transport in the Great Lakes-St. Lawrence Seaway Region (Executive Summary).
8 6 ways to optimize your logistics with multimodal transport. (n.d.). Short Sea Promotion Centre.
9 Transport Canada. Evaluation of Environmental and Social Impacts and Benefits of Shortsea Shipping in Canada. (2020). Government of Canada.
10 Fluid Intelligence. Foundational Study on Cross-Border Short-Sea Shipping Opportunities. (2023). McMaster Institute for Transportation and Logistics.
11 Transport Canada. The Government of Canada announces how it will change the way ports work to strengthen our supply chain and make life more affordable. (2022). Government of Canada.
12 Rodrigue, J. P. The North American Short Sea Shipping Market. (2020). The Geography of Transport Systems.
13 Hodgson, J. R. F., & Brooks, M. R. Canada's Maritime Cabotage Policy. (2012). Marine Affairs Program Dalhousie University.
Published September 1, 2023
Last modified on September 7, 2023