With an increased focus on Canada's relationship with Indigenous peoples, what is the marine shipping industry doing to improve relations and to work together with Indigenous communities? This blog provides an overview of where the industry – from ports, ship builders and operators to educational and training bodies – is on the path towards reconciliation. 
In Canada, the marine shipping industry and Indigenous communities are closely connected along all three coasts, the Great Lakes and the St. Lawrence. Ships sail through many of the traditional waters of Indigenous peoples and take on and offload cargo on their lands. Wakes and pollutants from ships can harm these areas by disturbing habitat and ecosystems that provide sustenance and economic livelihoods to Indigenous coastal communities.
In conducting its review on this topic, Clear Seas found that a number of organizations are already implementing the principles of reconciliation as set out by Canada's Truth and Reconciliation Commission (TRC). Some organizations, on both the East and West Coasts, have made positive steps forward, while others have yet to begin the journey. This blog provides a summary of what some in the industry are doing and offers the perspectives and experiences of those with active programs devoted to reconciliation.
Truth and reconciliation: Setting the stage
Reconciliation is founded in respect, understanding, and honesty from everyone involved. The Truth and Reconciliation Commission was established to address the effect of Canada's residential schools on Indigenous people and its Calls to Action for Corporate Canada is regarded by many as an excellent starting point. It encourages companies to commit to meaningful consultation with Indigenous peoples on economic development projects, ensuring equitable access to jobs and training, and providing education aimed at management and staff on Indigenous history and current affairs. Corporations were asked to adopt the United Nations Declaration on the Rights of Indigenous Peoples (UNDRIP).
The importance of the coast: A First Nations perspective
Kim Baird, a former chief of the Tsawwassen First Nation and Vice-Chair of Clear Seas, says that many First Nations along the Pacific coast have deep rooted relationships with the ocean. She notes, "The name Tsawwassen roughly translates to 'land facing the sea.' Being on the coast and being a fishing people means that the waters of our territory are a part of our identity. We heavily relied on waterways for our local and long-distance travel and in addition to fishing, we harvested sea-life."
Reconciliation is an important process in developing the Tsawwassen Nation's relationship with the Canadian government and the marine industry. "Finding a way, that is acceptable to us, to participate in this province and country has been a tough road. We have reset our relationship through the modern treaty that came into force in 2009, but it will take a long time to undo the damage of colonization to the Tsawwassen people. But we have found a path forward that will hopefully ensure we enjoy a quality of life comparable to our neighbours where we can restore our language and culture."
Baird sees opportunities for reconciliation for Indigenous communities and the marine shipping industry which, in her view, are still in their formative stages. "I think we are at the beginning of these discussions, but certainly I hope that First Nations will have more of a strategic role in managing the coastline. The shipping industry brings many benefits, but also has many risks and First Nations are well poised to help manage those risks."
The shipping industry's approach to reconciliation
The Chamber of Shipping, which represents shipping companies on Canada's West Coast, adopted the principles of UNDRIP in 2016. In an interview, the organization's President, Robert Lewis-Manning, says that they are "engaged in a process of learning, reflecting, and engaging with First Nations." The Chamber of Shipping is committed to working on fully understanding UNDRIP and how it plays into their operational duties as an organization.
Lewis-Manning says that some shipping companies that have local business interests appreciate the importance of close working relationships with First Nations. One example is Seaspan Marine Transportation, which publicly acknowledges that they operate on the traditional lands and waters of the Coast Salish people both in North Vancouver and Vancouver Island.
The Haisla and Seaspan Marine Transportation have formed a $500 million partnership called HaiSea Marine which will build and operate tugboats to escort liquefied natural gas (LNG) carriers in and out of the harbour in Kitimat where LNG Canada is constructing the LNG plant.
"HaiSea Marine is majority-owned by the Haisla," said Haisla Chief Councillor Crystal Smith. Neighbouring First Nations – the Gitxaala Nation and Gitga'at – will also benefit from the project through a transit agreement with the Haisla.
Oil spill response organizations such as the Western Canada Marine Response Corporation (WCMRC) have partnerships with First Nation organizations to operate response bases. For example, in British Columbia, they operate special training programs with coastal First Nations. Training together provides opportunities to build positive relationships with one another, so that if a spill does occur, they already have experience working together.
Building strong relationships: The role of ports in reconciliation
Along the west coast of Canada, some ports have recognized the need to build or redevelop their engagement strategies with local Indigenous communities. In the last five years, the Vancouver Fraser Port Authority and the Prince Rupert Port Authority have established Indigenous relations departments within their organizations. With experienced, committed staff leading these departments, it has become a priority to work together with the local First Nations who are impacted by port activities.
For Dianne Sparrow, the Manager of Indigenous Relations at the Port of Vancouver, building long-lasting, positive relationships between the port and Indigenous communities is the goal. Sparrow aims to include local Indigenous voices in decision-making, ensuring that communities are benefiting from the port's activities and are actively involved in the business of trade. Often, communities have concerns around the ecological impacts of development on their territories from port activities. "How can we include them with a seat at the table, rather than [consult] after a project?" says Sparrow.
Although the port has a legal duty to consult with local Indigenous communities through the Canadian Marine Act, there are additional unique benefits that come from meaningful engagement with First Nations leaders in business. Sparrow says that "There is so much these Indigenous communities could bring to your business in terms of building a sustainable business model in an environmentally safe and predictable fashion… There's all this knowledge that the communities have, and to have access to it is immeasurable."
However, like any business partnership, there are complexities in balancing the interests of all parties involved. "The breakdown between corporate Canada and Indigenous communities is nothing more than a lack of understanding of the different cultures," explains Maynard Angus, the Manager of Indigenous Relations with the Port of Prince Rupert. Angus has worked with the Port in various capacities over the years, most recently in developing and implementing a long-term Indigenous engagement strategy that aligns common threads, community priorities, and mutual goals that brings success to the economy.
From experience, Angus knows this lack of understanding between Indigenous communities and corporations can result in tensions around development projects. He believes project planners should engage as early as possible with local Indigenous leaders to discuss project ideas. This early engagement leads to stronger relationships established in communication, honesty, and trust, which can result in mutual benefits for all parties.
In addition to consulting with local communities about port activities, both Sparrow and Angus provide Indigenous history and reconciliation training to port employees. These workshops and events offer staff opportunities to build awareness about First Nations culture and create an understanding of the importance of involving Indigenous communities in all decision-making with port-related projects from the beginning.
In addition to major ports, some smaller ports and harbour authorities are also working collaboratively with Indigenous communities. On the southern tip of Vancouver Island, the Greater Victoria Harbour Authority (GVHA) was established with the belief that First Nations knowledge and participation must be integrated into the foundation of their work. Representatives from local First Nations are part of the Board of Directors, who help guide business strategies and make policy decisions. As one of the five guiding principles of the GVHA, creating and maintaining strong relationships with local Indigenous communities is a key priority for this organization.
Diversity and inclusion are a priority for the Halifax Port Authority. "This includes finding new ways in which we can work with Indigenous communities and others to be open and welcoming, and create opportunities," says Lane Farguson, Media Relations Manager, Port of Halifax. "This is a very broad and complicated subject, and we are in the early stages now of further developing our engagement, diversity and inclusion policies for Indigenous communities and other racialized groups."
Indigenous relations programs like these are not the norm among shipping companies and port authorities across the country. Both Sparrow and Angus believe that the marine shipping industry has a lot of work to do in terms of reconciliation. More meaningful communication, stronger personal connections, and a deeper understanding for Indigenous worldviews could result in a better, more sustainable marine shipping industry in Canada.
Educating a new generation of Indigenous mariners
For many, reconciliation is a multi-generational process which may take years to rebuild trust and understanding between coastal communities and the marine shipping industry. Creating new opportunities for employment and changing attitudes around shipping could be instrumental in the journey towards reconciliation. A number of post-secondary institutions across Canada have specialized programs to train Indigenous mariners and programs to encourage them to choose a career in the marine industry. And training and educational programs to advance Indigenous students is where many of the marine shipping companies have made important investments.
Ontario's Georgian College Centre for Marine Training and Research and the Huronia Area Aboriginal Management Board are partnering to offer marine courses for Indigenous students. They also have a very strong presence within the First Nation Small Vessel Operator Proficiency course on the commercial side. This will apply to First Responders who operate vessels or various commercial applications. Their instructors travel to First Nations as far north as James Bay or as far south as Walpole Island in Ontario.
Canada Steamship Lines, Seaspan and Irving have apprenticeship programs
Canada Steamship Lines (CSL) is partnering with the Anishinabek Community, Georgian College and the Seafarers' International Union to launch an Unlicensed Training Program to inspire new talent in the industry. CSL says it hopes to continue to grow and develop this Unlicensed Officer Training Program to inspire other Indigenous communities across Canada with what opportunities are available in the marine sector.
Seaspan is also focused on investing in Indigenous training and employment opportunities to support job training, apprenticeship programs and employment opportunities for Indigenous people through partnerships with the Aboriginal Marine Training to Employment Partnership, the Aboriginal Community Career Employment Services Society and the Coast Salish Employment and Training Society.
On Canada's East Coast, Nova Scotia's Irving Ship Building Inc., is working with a variety of industry, government, and Indigenous partners to launch an education and apprenticeship program to create job opportunities for 20 Indigenous students in metal fabrication. The program, offered through the Nova Scotia Community College Akerley Campus in Dartmouth, offers successful students the opportunity to build a lasting career in shipbuilding at its Halifax Shipyard.
The cohort-based pilot initiative integrates education, industry and community partnerships to develop a model that successfully creates pathways for Indigenous people to enter the shipbuilding industry.  Over the two-years, participants will learn and work together, as well as be mentored by community and industry supporters, including Indigenous employees working at the Halifax Shipyard.
Partnership between Memorial University and Nunavut
Newfoundland's Memorial University Marine Institute and Nunavut Fisheries Marine Training Consortium (NFMTC) offers training to nearly 300 Nunavut students, where almost all of the program is delivered in Nunavut. They provide a year-round program with the NFMTC and students can attain captaincy of different size vessels through a nautical science program. The four-and-a-half-year program trains students to the rank of captain of a small or mid-size fishing vessel and under Transport Canada regulations allows them to work offshore.
One of the largest First Nations' educational initiatives was set up in April 2019 in partnership with two BC post-secondary schools – Camosun College and the British Columbia Institute of Technology (BCIT) – to offer an Enhanced Bridge Watch Rating (BWR-E) program. With federal support through the Oceans Protection Plan, the program reduces barriers for people who are underrepresented in the trade, such as women and Indigenous people, to train them on skills  needed for an entry level job on a commercial vessel. The program includes courses such as Bridge Watch Rating (BWR-E) Training and Restricted (radio) Operator Card, Basic Safety Training, Marine Basic First Aid and Basic Survival Craft.
John Dymond, MBA, Business Development Manager at the School of Transportation at BCIT, says that the BWR-E program consists of a series of modules designed to train the candidate in the daily activities aboard a variety of ships. Activities include navigational duties, charts and buoyage, ropework, mooring and anchoring, cargo operations, communications and many ship safety duties as well as an understanding of marine related regulations. Students earn a number of Transport Canada certifications and credit towards required sea time.
When it sought to enroll a second cohort of students, BCIT partnered with the Kitimat Valley Educational Society and the Haisla Nation in a program for 12 weeks held in their community with an additional four weeks of training in the Vancouver area. Those graduates finished in January 2020 and some were offered jobs by Seaspan, West Coast Launch and BC Ferries. "We are not just committed to getting an academic credential or certification, but we're committed to helping graduates find sea time and launch careers as mariners. BCIT has a strong relationship with many marine companies and we count on these relationships to find jobs for graduates of the bridge watch program," Dymond says.
Dymond echoes a recurring theme that there are many benefits to recruiting Indigenous people, especially given their historic relationship with Canada's oceans and waterways since time immemorial, which brings a valuable skill and unique perspectives to the industry.
As an educational body, BCIT is committed to action that builds understanding around reconciliation. The project team involved with the BWR-E have taken a short course to learn the history of Canada from an Indigenous perspective.  Other institutions like Georgian College have a similar commitment to reconciliation. Both BCIT and Georgian College are signatories to the Colleges and Institutes Canada Indigenous Education Protocol and BCIT's Indigenous vision is centred around those principles.
"It's important to engage and reconcile for many reasons but it's ultimately about doing the right thing. The right thing includes, respect, awareness, inclusion and collaboration with Indigenous people," Dymond says. The world is changing and the marine industry, like others, must change with it. "What worked in the 20th century won't work for much longer. It's not just around Indigenous issues; this is a time of re-alignment. Businesses have to change for their own long-term success."
Robert Shea, Vice President, Academic and Business and Associate Vice President, Academic and Student Affairs, at the Marine Institute, Memorial University of Newfoundland, builds on that theme. He sees progress for Indigenous students deeply rooted in labour market needs as older workers retire and the skills shortage is exacerbated. He believes that the industry needs to look toward the next generation of mariners through effective succession planning.
Recruitment starts in the early grades
"Outreach to, and reconciliation with, First Nations is a smart, pragmatic decision," says Shea. "The industry wants equity, diversity and inclusion to make up the shipping industry. I think that they must step back and assess their needs and think about who's going to make up the crews of the future. Now's the time to start and it's not about recruiting in the universities and college. It's about starting to reach out to students earlier, starting in the high school system," he says.
Shea says that it is largely an employee's market. "The North American work force is making decisions about jobs that they want and not necessarily choosing shipping. So, the shipping industry is competing again with a multitude of other professions. And for prospective students the world is their oyster. We've learned through the COVID-19 pandemic that you can take an educational program from Nunavut, Scotland or Botswana. It doesn't matter where you are."
Shea says it is also about meeting the needs of a changing world. The working environment is changing whether it's around Indigenous, multi-cultural, multi-generational or gender issues. These are the issues that the shipping industry need to recognize and adapt to. His research shows that the industry is competing for a shrinking work force and that an Indigenous work force represents an important asset.
How is Clear Seas incorporating reconciliation into its mission?
From its inception in 2015, Clear Seas has had a commitment to Indigenous and coastal communities. It recognizes the unique place of Indigenous peoples in Canada and acknowledges Indigenous rights, as protected under Section 35 of the Canadian Constitution and as recognized in the United Nations Declaration on the Rights of Indigenous Peoples. This includes Indigenous rights and title, giving stewardship over their territories, including marine areas.
Clear Seas has a full-time Indigenous and Coastal Community Relations Manager, whose role is to work with Indigenous communities to incorporate Traditional Knowledge into research and work collaboratively to develop new project ideas. The organization is also working to integrate Indigenous perspectives into project development and to provide educational opportunities on Indigenous history and cultures for its staff and leadership. Accordingly, Clear Seas strives to actively involve Indigenous communities in carrying out its mission concerning research and knowledge sharing on safe and sustainable marine shipping in Canada. By publishing unbiased, accessible information on marine shipping in Canada, Clear Seas can support coastal communities in decision-making on marine issues. 
This is only the beginning of reconciliation actions taking place across the country. In the future, we hope to expand our depth of knowledge on responsible marine shipping by building long-lasting partnerships with Indigenous communities in Canada, and exchanging knowledge around sustainable marine shipping.
#Reconciliation #Marineshipping
Indigenous Voices
Sarah's Viewpoint
A couple of months have passed since I joined Clear Seas as the Manager of Indigenous and Coastal Community Relations and we are still in the midst of the COVID-19 pandemic which puts limits to the Relations part of my role. But overcoming barriers is not new to Indigenous people in Canada, and that is what we are doing today; we are working together to find new ways to communicate through the pandemic which is allowing us to connect virtually with people from all across the country.
With the ability to make connections from coast to coast to coast, I have developed a network of resources reaching out to Indigenous and Coastal Communities to hear their thoughts on marine shipping. Some Indigenous Communities have completed their own research on marine shipping in their territory while other communities may not even know where to begin.
As part of my role, I hope to support all communities and address their concerns and priorities for research on the impact of marine shipping in their territory. Another component in building these relationships is to develop a network for Indigenous Communities to share their own knowledge and resources with other Communities across the country. In my experience working with Indigenous Communities across Canada, many Nations are experiencing the same issues and have resources that can be shared with each other which will alleviate re-doing work.
We all want the same thing for a safe and clean future for our grandchildren and we need to work together to ensure we reach this goal.
Sarah Thomas
Manager of Indigenous and Coastal Community Relations, Clear Seas
Clear Seas aims to incorporate Traditional Knowledge and Indigenous perspectives into its research, recognizing the role they play in ensuring safe and responsible marine shipping in Canada.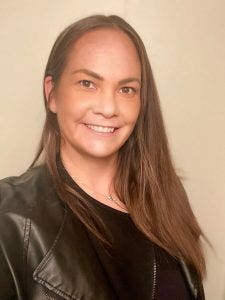 Editor's Note: Would you like to add to this blog? Is your company or organization contributing to reconciliation? Are you an Indigenous person with a view on this topic? Share your experience by emailing us at: info@clearseas.org
Published November 26, 2020
Last modified on March 2, 2022