Commercial marine shipping is inherently an international activity. As such, the industry requires regulation at the international level. International maritime regulations, also known as conventions, are developed by the International Maritime Organization (IMO).
What is the International Maritime Organization (IMO)?
The IMO is a specialized agency of the United Nations responsible for measures to improve the safety and security of international shipping and to prevent pollution from ships. The IMO is currently focused on trying to ensure that adopted conventions are properly implemented by signatory countries, including Canada. These signatory countries are then responsible for implementing and enforcing international conventions as their own national law.
The leading conventions developed by IMO are:
How does the IMO impact Canadian marine shipping regulations?
The IMO is currently composed of 172 Member States. These Member States then incorporate IMO conventions into their national legislation. In Canada, this responsibility is shared by Transport Canada, Environment and Climate Change Canada and Fisheries and Oceans Canada. To date, Canada has ratified or acceded to more than 39 IMO Conventions.
The leading regulations governing marine shipping in Canada are:
To learn more about international and Canadian legislation governing marine shipping visit: The Wheel of Maritime Law. The Wheel provides an overview of the national acts and international conventions, protocols and codes related to commercial marine shipping in Canada.
#clearfacts #marinesafety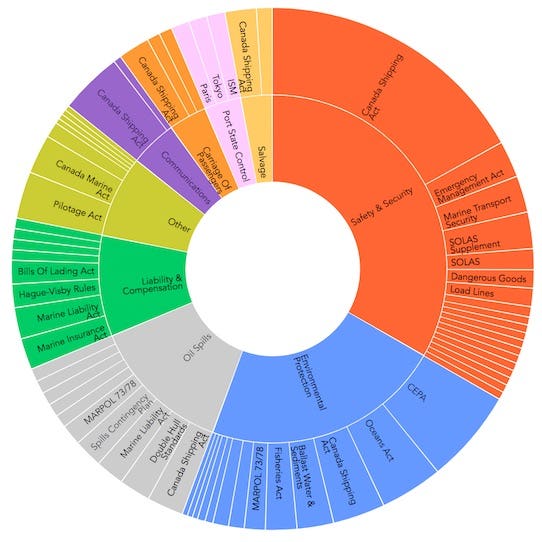 Published July 19, 2017
Last modified on June 11, 2020