There are four response organizations located in Canada.
These organizations are certified by the Minister of Transport and are expected to maintain government-mandated standards of preparedness to respond in the event that a commercial marine vessel spills oil in Canadian waters. The required procedures, equipment and resources of response organizations are outlined in the Response Organization and Oil Handling Facilities Regulations of the Canada Shipping Act, 2001.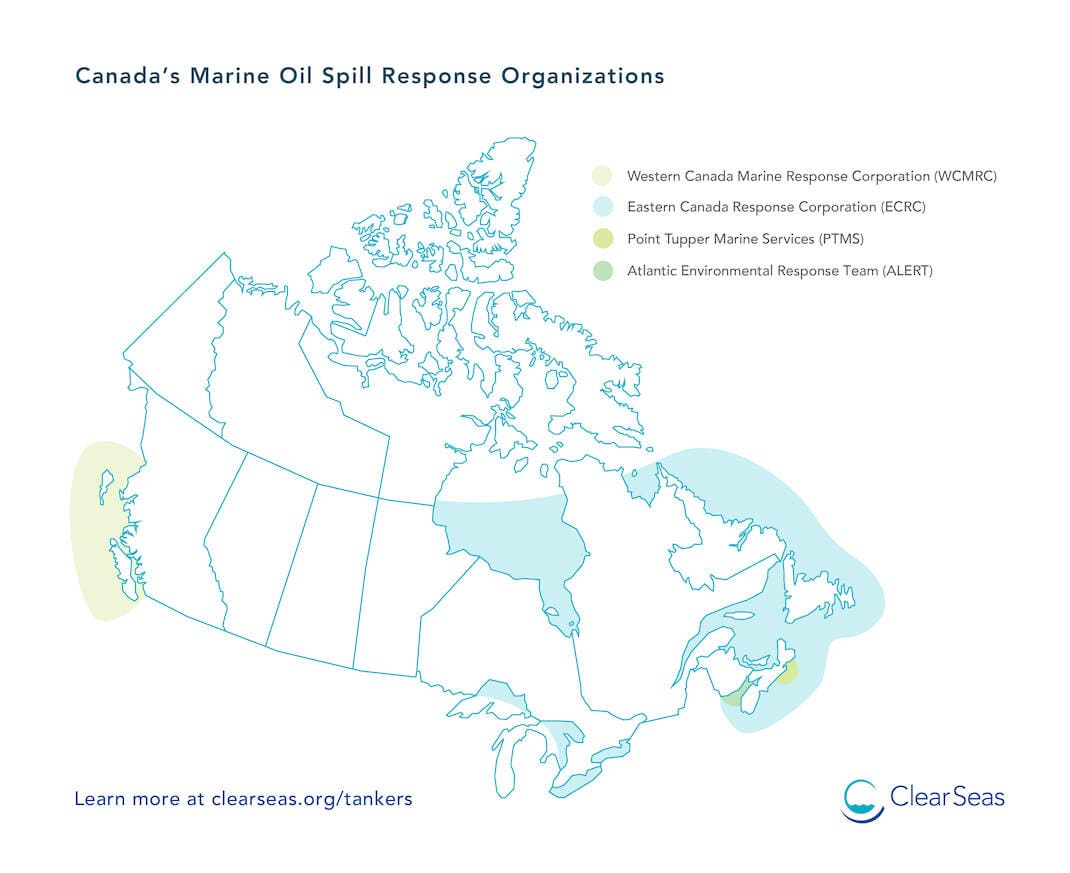 How Do Vessels And Response Organizations Work Together?
Vessels over 400 gross tons and oil tankers over 150 gross tons that call on a Canadian port within Canada's Exclusive Economic Zone or Canadian waters are required to have an arrangement with one of the four certified response organizations in Canada. If called upon, that response organization would then respond on their behalf in the event that their vessel spills oil in the marine environment.
If a vessel calls on a port in Eastern Canada, they require an arrangement with Eastern Canada Marine Response Corporation, Point Tupper Marine Services or the Atlantic Environmental Response Team depending on their pre-determined route. If a vessel calls on a Western Canadian port, they require an arrangement with Western Canada Marine Response Corporation.
Are Vessels Solely Responsible For The Cost Of A Response Organization?
Vessel owners operating in Canadian waters pay annual fees to fund the response organization with whom they have a mandated arrangement. These fees ensure the response organization is able to maintain the level of preparedness required by the Canadian Shipping Act, 2001 to respond in the event of an oil spill. This includes maintaining personnel, individual training and leadership, research and development, infrastructure and organization, information management, equipment and maintenance.

The operating costs of response organizations are also paid by oil handling facilities. Oil handling facilities are facilities loading or unloading oil to or from vessels. Like vessel owners, these facilities must also maintain an arrangement and pay fees to a certified response organization. Fees paid by oil handling facilities are calculated based on the number of tonnes of oil transferred.
When a response organization is deployed in the event of a spill, the costs associated with the response organization's time and resources during clean-up are additional to the annual fees and are paid by the polluter as required by the polluter pays principle.
Learn More About:
Response Organizations In Canada
Response Organization Standards
#clearfacts #marinesafety
Published November 23, 2017
Last modified on February 28, 2020