Indigenous research is being led by a new generation of Indigenous students who are redefining the field and tackling important topics that are addressing environmental social, and cultural challenges in First Nations across Canada.
The Clear Seas Indigenous Internship Program is wrapping up its second year of research projects led by post-secondary students across Canada. Each of these projects is unique as they are guided by local cultural and protocol teachings, are addressing the community's priorities and concerns, and incorporating the individual student's Indigenous Knowledge. Sarah Thomas, Director of Indigenous Programs at Clear Seas, says, "I have begun to see hope for the future as we are hearing about the benefits this internship program has brought to both the students and the communities. Students are learning about Traditional Knowledge and connecting it with their studies; the communities are building internal capacity with their members and learning about their traditional land and waters."
We had a chance to interview five of the students who are currently enrolled in the Internship Program. Each of these interns shared their story and how it has opened their eyes and hearts through their research by understanding how Traditional Knowledge, combined with Western science, can provide insights into conserving the marine environment and protecting Indigenous communities and cultures.
Measuring the impact of the ash beetle and its threat to Haudenosaunee traditions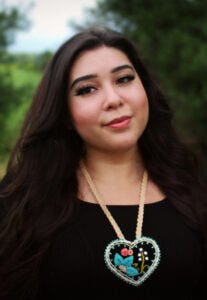 Chezney Martin is a member of the Haudenosaunee Nation, located in Southern Ontario, and is conducting research on the invasive emerald ash borer and its effect on the management and restoration of ash trees in central Canada.
The small metallic wood-boring beetle arrived from China and the Russian Far East in the early 1990s via wood packaging materials brought on ships. Now, up to 99 percent of all ash trees die within ten years of the beetle arriving in the area and no known natural predator has been able to stop its spread. While it represents a major environmental catastrophe, it is particularly devastating to First Nations communities like the Haudenosaunee Nation as they rely on the ash tree for some of their most sacred ceremonies.
Chezney explains that while the trees themselves are not considered sacred, the baskets that members of her Nation make are. "They're used in marriages, in gift-giving ceremonies and used within a sacrificial ceremony that's considered extremely sacred that's performed during the midwinter," she says.
Her research project allows her Nation to find a substitute to the ash tree but at the same time, they are looking for ways to protect the remaining trees and re-establish those that are lost. Part of her work has found that the strategies for protecting these trees are different for other jurisdictions because these trees grow across Canada and the United States. She believes that the different states and provinces of both nations need a common strategy in dealing with the problem.
Even more concerning to Chezney is that a lot of Haudenosaunee communities don't have the necessary ecological restoration tools to manage the problem. "I'm really hoping that with the findings of my project that they can either secure funding or move towards offering more educational resources or to even begin efforts for maintaining the tree populations or restoring them or having a plan if they disappear completely," she says.
For Chezney, the Clear Seas internship has been important. "I can't say enough good about it. I'm really looking forward to the opportunities that are going to open with this because I think research is a skill that is universal. So, I'm just beyond the moon with it for the most part."
Chezney says that she has received a lot of support from her community. She has a background in journalism and has had to do a lot of her own research which includes conducting interviews. This project and the support from Clear Seas—combined with her existing community connections—is an extension of that. "I think it's also been a lot easier rather than being someone that's outside of the community trying to come in and do research. So, there are no barriers when I'm talking to my home community members."
She is impressed with the knowledge of her fore-bearers and how it dovetails with the science of today. "Our communities talk about how everything is connected —everything has a connection; everything has a cycle. And when you look at it from a more scientific perspective, it's really reassuring that our ancestors knew so much about the Earth and the way that they knew it," she says.
"We might not have those pieces, those puzzle pieces that tell us how they know these things, but we know that they have this knowledge that's just embedded with science as well. We're just now rediscovering that knowledge because we've lost so much."
Seal River Watershed Stewardship and Community Development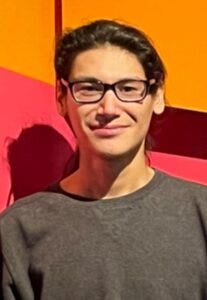 Logan Merasty is a member of the Seal River First Nation and comes from a small northern Manitoba community called Brochet with a population of roughly 700.  For nine months of the year, it is a fly-in community, with its road only accessible during winter. Logan's project focuses on the Seal River Watershed, and he shares how the river has always been a source of food, drinking water, and cultural significance to him and his Nation.  In his view, "When land and water provide to you, we must protect it."
Logan considers himself a big dreamer, with goals of entrepreneurship and helping his community. He aims to further his education in social innovation and community development, but funding has been a barrier. "There are barriers to isolated communities, and I'd like to bring opportunities to these communities… There's a sense of urgency to create programs, the goal has always been there, but organizations did not exist." Through the internship program, Logan has been able to earn funding and explore a research project that was relevant to his passion.
His research has given him an awareness of how connected he is to the rivers and waters of his community. "Historically, [the waters in his community] have always been important to us because we relied on it for transportation and hunting purposes and the fur trade. So, it's always been there to provide for us economically; it's always had an importance to us."
Another dream of Logan was to visit the West Coast. Through the internship program, Logan was able to attend IMPAC5, an international ocean conservation forum recently held in Vancouver, BC. "My dream came true, it was surreal to visit the West Coast … you learn a lot through travelling, and storytelling…" Logan had the opportunity to meet people from all over the world, and recalls talking with delegates from France, and a ship captain from Poland who was able to pass on advice. "In an isolated community growing up you were told to follow common careers, but there's so many other fulfilling opportunities. IMPAC5 had more people than my community… It's so important to protect our oceans," Logan says.
Clam Beds Provide a Window Into Indigenous Science and Conservation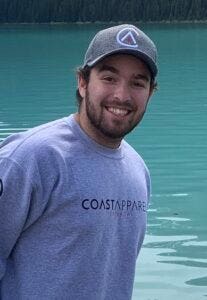 Gavin Woodburn, a member of the Kwiakah First Nation, is studying geophysics and Indigenous studies at Carleton University in Ottawa, ON, comes from a small community on the coast of Vancouver Island in BC. He understands that Indigenous perspectives are rooted in timeless knowledge which led him to his current full-time position as a research assistant in the Indigenous Science Division at Environment and Climate Change Canada (ECCC). His project focuses on fish weirs and clam gardens in his home waters, a two-hour boat ride and 53 km north of Campbell River, BC, on the Phillips and Frederick House River watershed.
"I came into the project thinking about just Indigenous technologies, in general, and how Indigenous knowledge and sciences shaped those technologies," he said.
Although he didn't know much about clam gardens and fish weirs to begin with, after conducting research and completing interviews with community members and elders, he says he has learned a lot about these innovative structures. He was particularly interested in clam gardens as they show an early awareness about securing food sovereignty and security. They also offer insights into protecting endangered species that are deeply rooted in Kwiakah history. Other clam gardens on the West Coast have been dated older than 4,000 years.
Gavin observed that his traditional territory lacked natural beaches along the shores, as they dropped off dramatically.  This led him to conclude that his ancestors had deliberately created the gardens. He believes that they did this to avoid travelling huge distances to shallower, protected waters to cultivate clams which were an important supplement to the five Pacific salmon species they relied on as their main source of food.
The early Kwiakah people built large rock walls to withstand the powerful tides of the Salish Sea. The tides washed loose sediment back and forth, creating a shallower slope, a beach, extending the growing area for clams. The reduced tidal energy allowed clams to grow undisturbed, and the warmer water in shallow areas further promoted clam growth.
He emphasizes that "large scale features like this (and others) were very much community oriented so it was part of learning and implementing the knowledge gained through the generations." Gavin is a living example of this philosophy, as he credits his uncle who has inspired a lot of his interest in his Indigenous heritage and understanding its connection to science.  His enthusiasm brims: "But there's so much technicality in it and just so many things, the more you investigate, you're like 'wow,' this makes so much sense. This is genius!"
He has also discovered that the gardens attract other marine life such as squid and octopus. Plus, an anthropologist Gavin has worked with has identified that the clam gardens appear to make a musical sound or sing, possibly from the tides ebbing and flowing, and moving rocks and pebbles.
Gavin praises the Clear Seas program as it opens doors for Indigenous students in science. When asked if he'd recommend the program, he says: "Absolutely, I recommend the program to any Indigenous person, especially in science, because there are limited opportunities for Indigenous science itself. And secondly, there's very little visibility of Indigenous Peoples in science."
He notes that this really gives students the foundation to do what they're passionate about. It also opened other doors for him including the opportunity to give two presentations at a prestigious conference in Washington, DC, hosted by the American Association for the Advancement of Science.  One of those talks was about "Nanoki'ksila: Indigenous science, Indigenous Youth and Perspectives." Gavin explains that "Nanoki'ksila simply means to think about something, and in this case, I wanted the audience to think about how Indigenous science can help students at all levels to learn more." His research has been recognized closer to home through his work with ECCC and with his Nation.
Gavin is passionate about the study of Indigenous science. "It is often dismissed as folk science or naive physics. I've seen it called mythology like it's not real knowledge. And when I talked about my research on clam gardens, one person came up to me and they just said, they're like, 'I don't know why I never thought of this or have never heard of it, but it's just a no-brainer.' And I thought, this is exactly what it is. And so, people look at Indigenous science and knowledge and technologies, things they did, and they just see it as primitive technology, partly because it's not digital or they look at it, but then dismiss it before even trying to understand it. And so, once you understand it, you really see how significant Indigenous knowledge is."
He illustrates his point with an example from farming and a technique called the "Three Sisters," where beans, squash and corn are grown together, and the harvest output is greatly improved. "And people see that and recognize it now, but they don't think about all the other different connections that take place. And so, just the way that clam gardens work, other species and marine systems work together to maximize efficiency."
But for Gavin this work is just the beginning. His future efforts will look at the impact of logging on clam gardens as increased landslides from deforestation and the movement of equipment through these areas has posed a real threat to their productivity and existence. In addition, he will be working with Clear Seas to assess potential shipping hazards and their relationship to marine life.
A Voice for Youth and Indigenous Ways of Knowing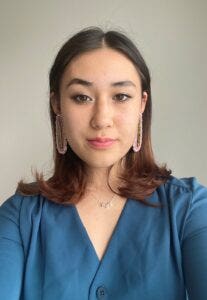 Julianna Yue was born and raised in Vancouver and describes her heritage as Métis-Cree, European, and Chinese.  She is a second-year student at the University of British Columbia, majoring in sociology with a minor in Indigenous Studies. Her project involved collaborating with the First Nations Fisheries Council (FNFC), and the BC government, in its efforts to attract Indigenous youth voices to participate in the province's Coastal Marine Strategy. This strategy is designed to address the health and resilience of the province's coastal communities and ecosystems.
Her primary focus is on education and investigating the use of Indigenous knowledge by researchers, as well as how they engage with the community. Her goal is to ensure that Indigenous voices and ways of knowing are respected at the same level as Western sciences. Additionally, she aims to facilitate communication between different levels of government to support research in Indigenous communities and promote a unified approach to addressing the issues at hand.
Julianna's story illustrates that not all interns need to be studying science. She comes from a non-science background and after a meeting with the FNFC, she took the initiative to set up a social science project focusing on coastal marine shipping after receiving encouragement from the FNFC.
The highlight of her work was organizing a youth summit that included Indigenous youth between the ages of 18 to 30 from across British Columbia.  After listening to the youth share their concerns and the priorities of their coastal traditional territories, Julianna had the opportunity to carry the voices of the youth, alongside FNFC's Rebeka MacDonald, to the larger gathering. She will be writing a "What We Heard" report on the event that will form part of the provincial government's Coastal Marine Strategy and will be shared with several First Nation communities and leadership.
"I think what stood out the most was the collaboration between the different youth even though they're from completely different communities," she said.  "They all were able to work together to prioritize certain things that need to be heard and need to be talked about. Because of the timeframe we had, we only really had time to touch on four major opportunities or information gaps that we were seeing in the framework thus far."
A big focus of the event ensured that the participants followed the principles of Ownership, Control, Access, and Possession—known as OCAP — developed by the First Nations Information Governance Centre. She also found that Indigenous voices and ways of knowing need to be prioritized and must be in the forefront of new marine policies.
Assessing Health Impacts of Marine Shipping Through Two-Eyed Seeing
Charity Champagne is Red River Métis, and a member of the Métis Nation of British Columbia and lives in Vancouver, BC. She is of Red River ancestry on both her parents' sides. When we conducted our interview with Charity, she was in the final week of her social work degree at the University of British Columbia. A big part of Charity's project on the health impacts of marine shipping ties into her degree program and is viewed through social justice and science perspectives. She said, "I'm looking at health and wellness through an Indigenous lens and using Barnhardt and Kirkness's framework for Indigenous research that includes the four R's: relevance, respect, responsibility, and reciprocity."
For Charity, two-eyed seeing — recognizing the strengths of both Indigenous knowledge and Western methodologies is imperative to ethical research. "Two-eyed seeing can also be about looking both outward and inward — how we relate outward to the community, and also inward to ourselves, our own identities," she says. "Empirical research values objectivity, while Indigenous methodologies understand that research is relational, and that the researcher is a part of the process and part of the community. [In a program like this] there's a greater level of accountability for the researcher to have good relations with the community."
She notes that there's often an assumption or bias that Western research methodologies are superior to Indigenous ones. "This is where there is a greater potential for perpetuating harm to the community. There's so much that can get missed when traditional methods like storytelling are not given the space or respect, they deserve. And so, prioritizing Indigenous perspectives and ways of knowing in research is critical to reconciling some of the harms that Western research has caused."
Charity is wrapping up her second round in the Indigenous internship program, and recently had the opportunity to present at IMPAC5 to share what she applied in her project. "During IMPAC5, some kind of light went off. I am more confident now that I can do the kind of social work that I want. More Indigenous voices need to be involved with research and policy."
The internship program has been very important to her, and she doesn't hesitate to recommend it to anyone considering signing up. "I would absolutely recommend it. I think it's an incredible opportunity and offers a flexible schedule to complete the projects."
Many programs have restrictions that prevent older students from taking internships, and she was grateful that this program removed that barrier.  "Other projects cap out at age 30. For various reasons Indigenous students generally return to school later," she said.
What advice would she have for someone considering the Indigenous Internship Program as part of their career plan? "Don't be afraid to ask for help; the Clear Seas team are so nice, and I wish I'd had more social interaction."
---
Clear Seas continues to accept applications to the program
Clear Seas is grateful to its community, industry, and research partners that assist the internship program through financial support, knowledge sharing, hands-on learning, and helping to lead Reconciliation in the marine shipping industry. We especially appreciate the support the program receives from Mitacs, the British Columbia Institute of Technology, ZIM Integrated Shipping Services and Teekay Shipping (Canada). Stay tuned for new events and ways to participate.
To learn more about our Indigenous Internship Program and to see how you can support it or get involved, visit our website. You may also contact Justin Perry, Program Lead at Justin.Perry@clearseas.org or Sarah Thomas, Director of Indigenous Programs at sarah.thomas@clearseas.org.
Published June 6, 2023
Last modified on August 10, 2023