About Clear Seas:
Supporting Sustainable Marine Shipping
Clear Seas Centre for Responsible Marine Shipping is an independent not-for-profit research centre that supports safe and sustainable marine shipping in Canada.
Clear Seas was established in 2014 after extensive discussions among government, industry, environmental organizations, Indigenous Peoples and coastal communities revealed a need for impartial information about the Canadian marine shipping industry.
RESEARCH • ENGAGE • INFORM
Clear Seas provides impartial information on marine shipping in Canada to policy makers and the public. Our mandate is to initiate and interpret research, analyze policies, identify best practices, share information and facilitate dialogue.
Our research focuses on the human, environmental and economic impacts of marine shipping. That includes practices for safe handling of bulk commodities at marine terminals, impacts of oil and liquid natural gas shipping, spill prevention and response, impacts on coastal and Indigenous communities, and much more.
We collaborate with Indigenous groups, stakeholders and experts to identify knowledge gaps, share results of existing studies, and facilitate new research to ensure decision makers have access to accurate, up-to-date information.
Indigenous Relations & Participation
Clear Seas recognizes the unique place of Indigenous Peoples – including First Nations, Inuit and Métis – in Canada, which affords them rights, as protected under Section 35 of the Canadian Constitution and as recognized in the United Nations Declaration on the Rights of Indigenous Peoples. This may include titles or rights and associated stewardship over their territories, including marine areas. 
Accordingly, Clear Seas strives to actively involve Indigenous communities in carrying out its mission concerning research and knowledge sharing on safe and sustainable marine shipping in Canada. In particular, Clear Seas seeks to: 
Create awareness among Indigenous communities of Clear Seas' mission and activities;

Learn about Indigenous communities' perspectives on marine shipping issues;

Identify areas where Clear Seas can contribute to addressing marine shipping issues using research capacity, communication, and convening power;

Appropriately apply Traditional Knowledge* to Clear Seas' research;  

Collaborate with Indigenous communities to lead or participate in research activities, and also provide employment and business opportunities; and 

Build respectful relationships between Clear Seas and Indigenous communities. 
*Traditional Knowledge is a body of knowledge specific to Indigenous People. It comes from their cultural heritage, traditional lifestyles and the strong relationship they cultivate with the natural environment. Traditional Knowledge includes deep understanding and insights into traditional subsistence and resource harvesting practices as well as extensive knowledge of environmentally sensitive and culturally significant coastal areas.
Research Advisory Committee
Clear Seas' Research Advisory Committee (RAC) helps the organization define and deliver its research agenda. The RAC brings together individuals from diverse backgrounds including Indigenous, academia, and the maritime industry from different regions across North America. Through their unique experiences and perspectives, RAC members provide strategic advice and guidance to support Clear Seas in achieving its goals of a balanced, relevant, and impactful research portfolio that enables better decisions on key marine shipping issues.
Clear Seas is an independent organization that publishes research on sustainable marine shipping in Canada. It incorporates authoritative scientific data along with Indigenous Peoples' Traditional Knowledge to facilitate dialogue based on the idea that accurate information leads to better decision-making.
Founded in 2015, Clear Seas' research and findings contribute to the national conversation on topics from maritime traffic safety, air and water pollution, underwater noise, decarbonization and climate change, to building a sustainable marine economy. The organization is funded by governments and industry, as detailed in its annual audited financial statements.
Clear Seas funding, 2015-2021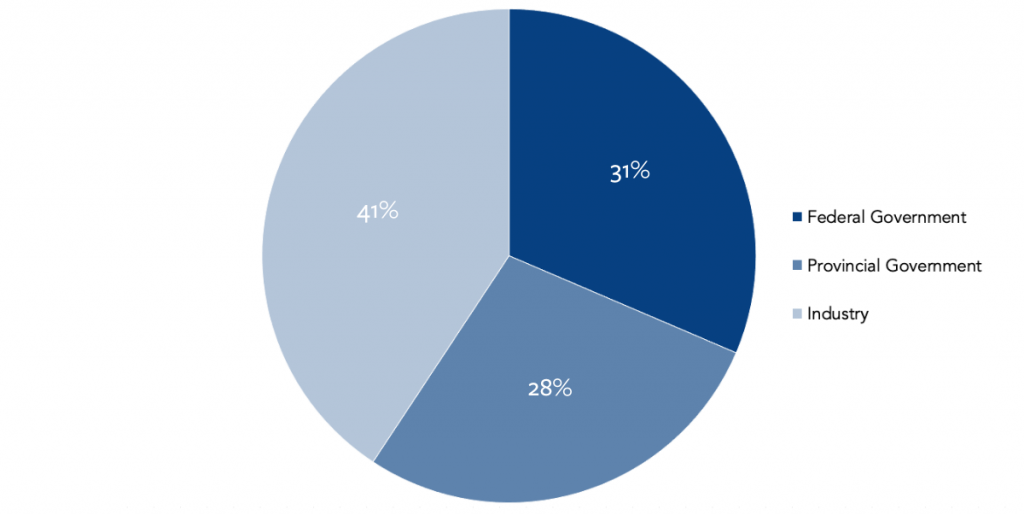 Clear Seas' board of directors includes members of First Nations, the public sector, the scientific and engineering communities, and marine related industries. They present a wide range of experience in the human, environmental and economic issues related to shipping on Canada's oceans, coastlines, lakes, and waterways.
All reports and findings are freely available to the public through the Clear Seas website and its social media channels.