Abandoned and derelict vessels pose significant risks to marine safety and have both economic and environmental impacts on local communities.
Abandoned vessels are vessels which the owner intentionally abandons with no intention of returning and without transferring ownership to another person. Derelict vessels are unseaworthy vessels which are a hindrance to the public. Maritime Law considers a derelict vessel an abandoned vessel.
Why Are Abandoned And Derelict Vessels An Issue?
Abandoned vessels in Canada have economic and environmental impacts on local communities. They can harm local businesses such as tourism and fisheries, damage infrastructure, interfere with navigation and pose safety risks to Canadians. Additionally, they can physically harm sensitive marine and coastal habitats, sink or move during coastal storms, disperse oil and toxic chemicals still on board, and become a source of marine debris which may entangle and endanger marine life.
Dealing with abandoned vessels is challenging as it entails significant financial and technical resources. In Canada, vessels owners are responsible for removing derelict vessels. However, it is often not possible to identify the owners of abandoned derelict in order to seek compensation. As a result, the costs associated with abandoned vessel removal can become a burden to coastal communities and public entities.
How Is The Ship-source Oil Pollution Fund Involved In The Abandoned Vessels Issue?
In many cases where the vessel owner is unidentifiable claims for compensation are submitted to Canada's Ship-source Oil Pollution Fund (SOPF). The SOPF is Canada's domestic oil spill fund which can pay claims for oil pollution damage in Canadian waters caused by the discharge of oil from a vessel. However, in most cases, the SOPF is being called on to compensate oil pollution damage remediation costs, or costs to mitigate the threat of such damages, the source of which are abandoned vessels.
The SOPF recently released a report on incidents involving derelict and abandoned vessels that resulted in claims submitted to the SOPF between 2006 and 2015. The report concluded that the cumulative number of incidents from derelict and abandoned vessels resulting in claims totaled 80 of the 138 incidents the fund was involved in between 2006 and 2015. This means that 58% of all the incidents the SOPF handled were in relation to abandoned vessels. In this same time frame, the SOPF handled one incident related to an oil tanker.
3 out of every 5 incidents resulting in claims to the Ship-source Oil Pollution Fund are from derelict or abandoned vessels and wrecks.
Abandoned vessels in Canada are frequently recreational and commercial fishing vessels. The SOPF found that in the incidents they handled, the three largest categories of vessels abandoned are:
Wooden Fishing Vessels or Tugs
Ex-fishing Vessels
Fishing Vessels
Most incidents of abandoned vessels that the SOPF handled occurred in British Columbia. Out of the 80 incidents the SOPF handled involving abandoned vessels, 62 occurred in B.C. This represents approximately 76% of the burden.
Over the 10 year period, the SOPF paid a total of ~$4.3 million in settlement claims related to abandoned vessels. In these incidents only 2% of the costs were recovered by the SOPF from the polluter. In comparison, the SOPF paid just under $1.1 million for all other claims handled in that same decade and recovered 10% of the costs.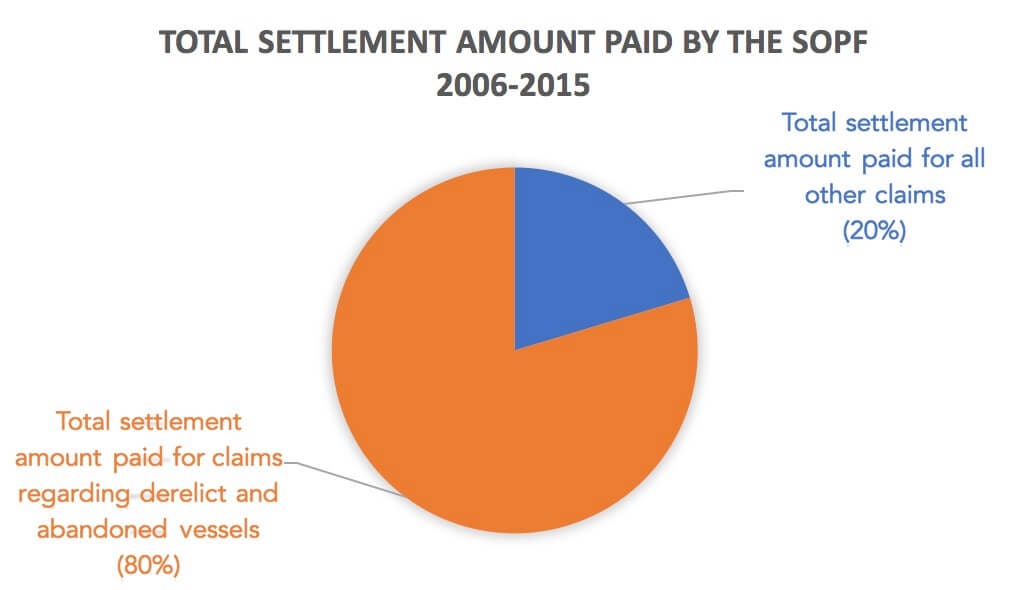 (Ship Source Oil Pollution Fund, 2017)
What Is Being Done In Canada To Mitigate The Impacts Of Abandoned Vessels?
The work of the SOPF only captures a fraction of the issue. It is estimated that 600 vessels have been abandoned on Canada's coasts.  In November 2016, the Government of Canada announced its $1.5 billion national Oceans Protection Plan (OPP) to improve marine safety and responsible shipping and to protect Canada's marine environment. Under the OPP, a total of $8.175 million has been allocated to help mitigate the impacts of abandoned vessels.
Two new programs have been announced to address the issue of abandoned vessels:
Under Transport Canada's Abandoned Boats Program, provincial and local governments as well as Indigenous groups can apply for a share of $5.6 million over the next five years to assess, remove and dispose of abandoned vessels. The program will cover all of the cost of assessments and 75% of the cost of removal and disposal.
The Small Craft Harbours Abandoned and Wrecked Vessels Removal Program will provide up to $1.325 million over 5 years to Harbour Authorities and other eligible recipients to remove and dispose of abandoned vessels located in small craft harbours owned by the Department of Fisheries and Oceans. The program will cover 100% of claimants' total eligible costs for gaining legal possession of a vessel and for assessing the cost of removal and disposal of the vessel, and 75% of the cost of removal and disposal.
The federal government has also put aside $1.25 million under the OPP for education, awareness and research projects related to abandoned vessels over the next five years.
Update:
On October 30th, the Government of Canada introduced the Wrecked, Abandoned or Hazardous Vessels Act, Bill C-64, in Parliament. The Bill will bring the Nairobi International Convention on the Removal of Wrecks, 2007 into force of law in Canada.
The Wrecked, Abandoned or Hazardous Vessels Act will:
Prohibit vessel abandonment;
Strengthen owner responsibility and liability for hazardous vessels and wrecks, Including costs for clean-up and removal; and
Empower the Government of Canada to take proactive action on hazardous vessels before they become more costly to Canadians.
"We are taking further action on our promise to protect Canada's coasts and waterways. Holding vessel owners accountable for their actions is an important step in ensuring Canadians are not burdened by the effects of wrecked and abandoned vessels, nor responsible for their clean-up costs. This is an important stage in addressing abandoned and wrecked vessels. This will give the shore back to the communities and protect our coasts and the quality of our water. The Government of Canada is committed to demonstrating that a clean environment and a strong economy can go hand-in-hand." 

– Marc Garneau, Minister of Transport
Learn More About:
Canada's Initiatives Related to Abandoned Vessels Under The OPP
Canada's Oceans Protection Plan
Proposed Canadian Legislative Regime For the Remediation of Hazards Related to Shipwrecks
Join the Conversation on Marine Shipping in Canada:
Visit the Let's Talk Oceans Protection Plan Portal To Engage
#clearfacts #marinesafety
Published October 10, 2017
Last modified on June 11, 2020