Clear Seas Speaking @ ACPA 2016
Executive Director Dr. Richard Wiefelspuett speaks at the Association of Canadian Port Authorities 2016 Conference in Thunder Bay, Ontario.
Dr. Richard Wiefelspuett will contribute Clear Seas Centre for Responsible Marine Shipping's perspective in a panel session on:
Energy Exports Consultations: Challenge and Opportunity: The current Government has adopted transparency and openness as key operating principles. How are Canada's energy firms and the transportation sector as a whole responding to the quest for open and extensive public consultations? Are there opportunities for ports and the marine sector to use the consultation process to secure broader understanding of the issues?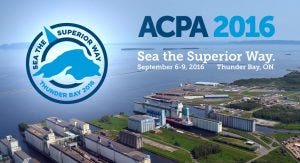 About ACPA 2016:
The Port of Thunder Bay is welcoming Canada's port industry to "Sea the Superior Way," this fall at the 58th ACPA Annual General Meeting and Conference.
Located at the head of the Great Lakes- St. Lawrence Seaway, the Port of Thunder Bay is a superior gateway and lifeline to Eastern markets for Western Canada. Conference goers will not only explore the superior nature of the Port, but will also navigate the legendary seaway and new technological advancements that have set the industry into a spiral of evolution.
Learn more & register here
We hope to see you in Thunder Bay!
#ACPA2016 #tbay #SeatheSuperiorWay #shipping
Save
Save
Published August 31, 2016
Last modified on July 17, 2018