A ship-source oil spill is defined as a discharge of any type of oil from a commercial vessel into the marine environment. In the event of a ship-source oil spill in Canadian waters, three main players are involved in responding to and cleaning up the spill: the polluter, the contracted response organization, and the Canadian Coast Guard (CCG).
Oil Spill Response in Canada

The Polluter
Canada places first reliance for clean-up and the cost of clean-up on the polluter when the polluter is known and has adequate capability to respond. Ships that transit Canadian waters are legally required to have a Shipboard Oil Pollution Emergency Plan (SOPEP), as well as an arrangement with a certified response organization that would respond to a spill on the polluter's behalf. Learn more about the role of the polluter in spill response.
The Response Organization
In Canada there are four response organizations representing four separate regions of Canada.
Canada's four Response Organizations:
Point Tupper Marine Services Ltd.
Transport Canada certifies each response organization every three years to ensure that the appropriate level of preparedness is available to respond to marine oil pollution incidents of up to 10,000 tonnes within prescribed time standards and operating environments. Learn more about who pays for response organizations in Canada.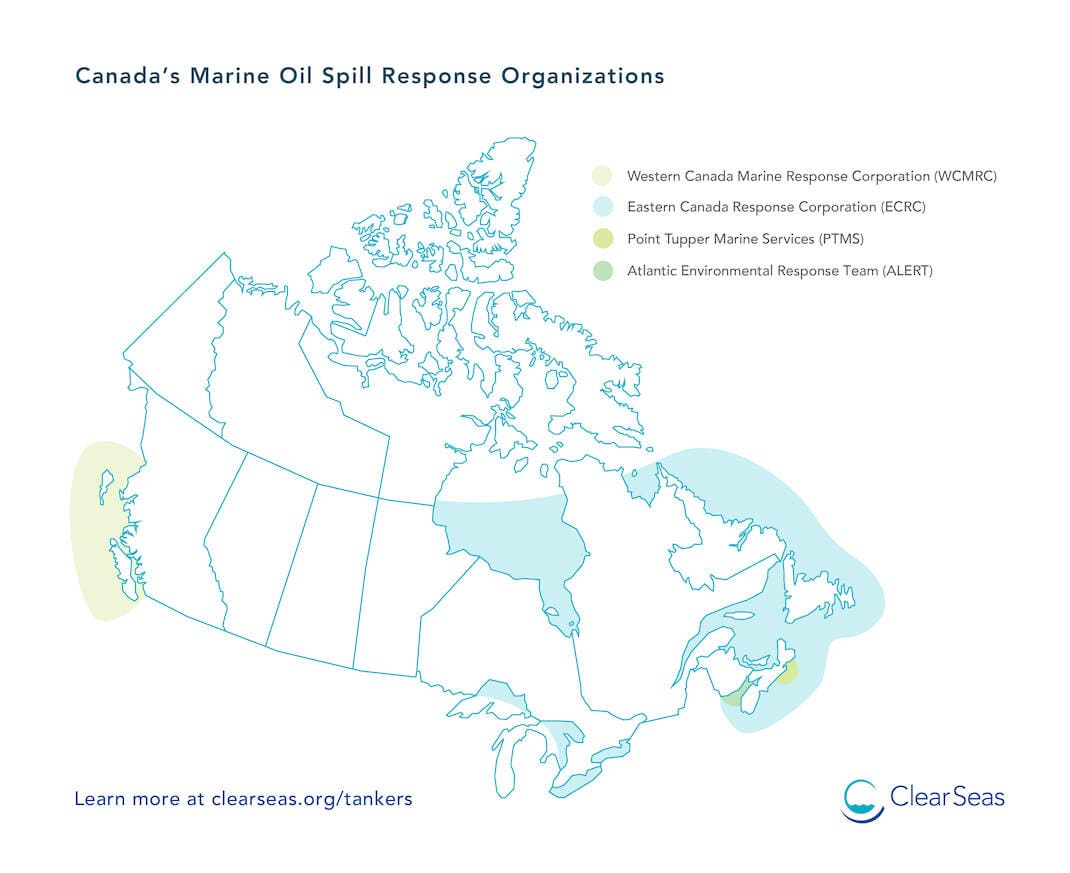 The Canadian Coast Guard
The Canadian Coast Guard (CCG) is responsible for ensuring that the polluter's response to pollution incidents meets expectations. In the case that the polluter is not known or does not have the capacity to respond, the CCG assumes responsibility for monitoring and managing the clean-up of ship-sourced spills of oil and other pollutants into Canadian waters as the On-Scene Commander. Learn more about the CCG's role in emergency planning and environmental response.
Transport Canada's Role in Governing Response
Transport Canada sets the guidelines and establishes the federal regulatory framework for preparedness and response to spills from ships and has a National Preparedness Plan that lays out the overall framework for the national preparedness capacity to combat marine oil pollution incidents in Canada. Learn more about Transport Canada's role and responsibilities in response.
Canada's Oil Pollution Fund
In Canada, under the Marine Liability Act (MLA), if a ship spills oil of any kind in the marine environment it is the polluter who must pay for the cost of oil spill response. The first line of defense for cost recovery is the insurance shipowners are required to have. If the costs associated with a spill exceed the shipowner's limits of liability additional compensation may be sought from other sources funded by industry. One source of funding is the Canadian Ship Source Oil Pollution Fund (SOPF), Canada's domestic oil spill fund which can pay claims for oil pollution damage in Canadian waters caused by the discharge of oil from a vessel. To learn more about who pays for oil spill response visit our site 'Who Pays for an Oil Spill?'   
Learn more about Canada's Spill Response Regime:
National Oil Spill Preparedness & Response Regime
Compensating for Response Costs
#clearfacts #marinesafety
Published July 6, 2017
Last modified on October 30, 2018