"We rely on transporting goods by ship, but we don't need to maintain the status quo. We can't maintain the status quo; there is a better way." – Tony R. Walker
Dr. Tony R. Walker is an assistant professor at the School for Resource and Environmental Studies at Dalhousie University in Halifax, Nova Scotia, Canada. He focuses his research efforts on management and remediation of contaminated sites, ecological impacts and mitigation of industrial pollution, ecological risk assessment and environmental effects monitoring, management of aquaculture impacts, management of Arctic and Antarctic natural resources, and air pollution impacts on ecosystems. Most of his recent research has been in partnership with industry and has focused on environmental management and monitoring across Canada.
Interview
Tell us about your research
I work on a range of projects, from conventional contaminants and restoring sites to sustainable shipping to the effect of plastics in the environment. One project underway is the Green Shipping Partnership led by the University of British Columbia and involving many Canadian and international universities as well as shipping industry partners. My particular focus is mitigating the environmental impact of marine transportation.
The common thread of my studies is cataloguing environmental effects to look at the complete picture over time. In one study, Green Marine: An environmental program to establish sustainability in marine transportation, we concluded that sustainability efforts benefit both the environment and industry. Industry has some initial pain from implementing these efforts, but in the long term, shipping companies see improved branding and reputation as well as profitability.
A recently completed research effort was a chapter in a book collection called World Seas. I led the development of the chapter, Environmental Effects of Marine Transportation in the third volume, Ecological Issues and Environmental Impacts, to look at impacts of marine transportation.
What were the objectives of this research?
The idea for this work built on my previously completed Green Marine study with the objective of taking the main environmental impacts of marine shipping and investigating each one in detail.
A small team of graduate students were significantly involved in reviewing air pollution, ship strikes on marine mammals and megafauna, and underwater noise, you name it, we covered it. We investigated almost a dozen environmental categories and then provided mitigating strategies for industry that, if implemented appropriately, could help offset these impacts.
We incorporated empirical evidence and results from other published studies for each impact we considered. As these are the top ten impacts that are recognized in various sustainability or performance metrics around the globe, there was a lot of information out there. For example, one of the big impacts of ships is air pollution. Even though ships are very efficient at transporting goods, they still contribute to greenhouse gas and carbon dioxide emissions. In assessing this impact, we did a quick review of the fuel types for ships and the kinds of emissions that they produce. Then, we looked at some of the clean technologies and the International Maritime Organization's proposed regulations that are coming down the pipe to decarbonize the industry.
What is the key message of the study?
For someone coming fresh to this topic, this chapter is a great starting point to learn more. I think this work offers policy-makers or early career researchers with an interest in this topic a nice go-to location for relevant material.
From this research, we discovered that most people don't understand the impact cargo ships have on the environment or on their lives. Ships transport 90% of the goods we use, but if you don't live next door to a port, shipping is out of sight, out of mind. Most people don't realize that their laptops or their cellphones, in fact pretty much everything they use in their daily lives, is transported this way.
While participating in this crucial role in the world's movement of goods, ships transiting the Atlantic or the Pacific are having a negative impact on marine mammals by causing underwater noise or even collisions. These impacts aren't intuitively understood by the general public.
My hope is that this publication collects the current scientific literature and paints a picture about the impacts and what the current mitigative strategies are. It's not all doom and gloom; we're showing a path forward on how to green the marine transportation industry.
How could your research be applied?
As this research was similar to a literature review, we didn't create new knowledge or empirical data. The main benefit as I see it is opening up the concept of environmental impacts to a wider audience: the general public and even those working in the shipping industry. The people running the shipping companies are becoming more aware of their environmental footprint.
Many organizations could substantially green their operations by following best practices or other mitigative strategies we include in this work. Some measures can be very costly – like retrofitting a ship's engine – but other measures affect operations with minimal cost, for example, how and where a ship discharges and takes on ballast water. That is a process that can have a major impact on the environment, but if you follow best management protocols, you can reduce the impact on the environment dramatically.
In the past, the shipping industry operated mainly focusing on profits, but now there's a strong interest in sustainable operations and engaging the community. I think this study is helping open up those conversations by offering a way forward for all members of society. These results have been applied by the Vancouver Fraser Port Authority, the Halifax Port Authority and others, even internationally, all working to green the marine shipping industry globally.
How was this research funded?
Well, really it wasn't. In 2017, the editor of Marine Pollution Bulletin, Charles Sheppard, contacted me to provide a chapter for the World Seas collection, but there was no funding for it. I teach as well as conduct research and I brought the idea for the chapter to a small group of graduate students in one of my "special topics" courses. We unanimously came up with the idea for a workshop style course with a strong element of peer teaching to create this chapter. We did this work out of our own interest and the students did amazing, publishable work.
What do you wish everyone knew about your research?
I would like the general public to know more about the innovative strategies ports are using to reduce environmental impact. Canadian Port Authorities have a conscious and compensative environmental impact through measures like greenhouse gas audits of their operations, shore power, and the efficient movement of ships and goods. Many of these measures are good for profit while also cutting down on pollution.
We rely on this globalized transportation network and we're going to have to live alongside the marine transportation industry. We have to accept this reality while working to shape it and improve it in any way we can. Many ports encourage public feedback on their sustainability plans. If you use goods, you're part of the problem but you can be part of the solution too.
What do you wish everyone knew about commercial marine shipping?
If more people understood the process of shipping, you'd understand that everything has a cost. Even with the greenest ship and the most sustainable port, there will be a negative environmental impact. Period. There's no such thing as "no impact."
I think as consumers, we might want to ask, "Where did this item that I'm buying come from?" In an ideal world, we need to consume less, but the 7.6 billion people who live on our planet are going to have to import goods from somewhere; that's the way the market works.
However, we can make conscious decisions. If we consume less due to smart consumer choices, then marine shipping will become more sustainable. If consumers demand fewer products, the shipping companies that remain in business will be leaner and more competitive with improved, more sustainable practices. Any inefficient laggards causing further environmental damage are not going to get the contracts with the large suppliers or the large manufacturers. Canadian Tire is not going to want to ship all of its products and goods using an operator that is bad for the environment because then it's bad public relations. Success will breed success. Corporate social responsibility will lead to a social license to operate.
What inspires you to do this work?
I think a lot of my passion comes from my junior colleagues and my students, representing a constant effort to develop knowledge in many different areas so we can collectively look at the big picture. I've got graduate students working on different aspects of corporate social responsibility sustainability in shipping and ports. And I think we still have a long way to go. We rely on transporting goods by ship, but we don't need to maintain the status quo. We can't maintain the status quo; there is a better way. I think any innovation, any technology which helps us get there is a really good thing.
Where can we learn more?
I have provided two comprehensive sources on sustainability initiatives here and here.
More about Dr. Tony R. Walker
Dr. Walker has a Bachelor of Science from the University of Portsmouth, a Master of Philosophy from the University of Essex, and a Doctor of Philosophy from the University of Nottingham, all in the UK. He completed a post-doctoral fellowship at Dalhousie University in Halifax, Nova Scotia.
His research topics of interest include biodiversity conservation, freshwater and marine systems, health and environmental justice, industrial sustainability, and urban and regional issues.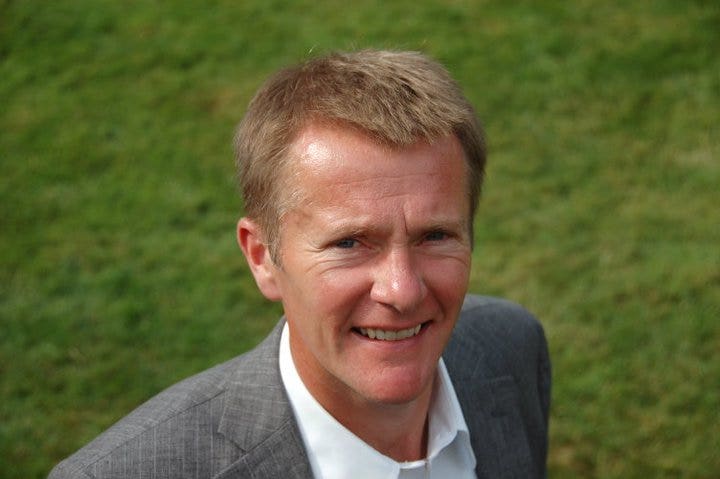 #clearfacts #sustainableshipping
Published July 3, 2019
Last modified on March 25, 2021